Blending Stability, Cockpit Space and Serious Fishing Design
Even Kayaks can troll baits. But when trolling requires artistry, demands a tournament-winning strategy, or provides the best means to big-fish dreams, which boat do you need? What are the features and design elements that create the top vessels in this category?
To answer those questions, I asked four builders that make either classic or purpose-designed trolling boats to describe the subtleties of their crafts. All are inboard-driven vessels in the 35- to 45-foot range. Here are their answers (listed alphabetically by builder).
"The Albemarle 36 sports a sharp entry at the forefront for a soft ride to and from the fishing grounds, yet it transi­tions to a modest 16 degrees of deadrise at the transom to provide less draft, a cleaner wake and a stable trolling platform," says Ted Haigler, director of sales and marketing for Albemarle. "Underwater exhaust keeps the noise level low and eliminates any diesel smell or transom sooting."
Albemarle builds aft-facing seating at the mezzanine to offer mates a com­fortable perch for watching the spread. A standard transom door allows for boating big-game fish, and oversize boxes on the transom and in the cockpit create ample space to store a catch.
"Plenty of freeboard provides a sense of comfort when fishing in big seas, and an optional bait freezer makes keeping plenty of mullet, ballyhoo and mackerel
easily accessible," Haigler says. "Three steps up to the helm deck and then an additional 6-inch platform for the cap­tain means excellent visibility" for the helmsman to survey the cockpit, the transom and the surrounding water.
The fact that the boat is designed for inboard power means less than it used to, Haigler says. The traditional wisdom that inboard boats raise more fish than do those with outboards has lost its impact with the new, quiet four- stroke engines, although fishing around outboard engines can prove a bit more challenging, he adds.
Since trolling practices change based on target species, weather and sea state, boats must operate at varying speeds while offering a clean wake. They must also offer enough beam to create an optimal spread, a large enough cockpit to quickly set and clear lines, and handy rigging stations where leaders can be swapped and baits can be changed with minimal hassle.
"The 36 Albemarle performs well however you need to run it. We have seen it win multiple tournament vic­tories. The 36 has also proven itself on the high-speed troll, catching wahoo in South Florida and in the south Caribbean," Haigler says.
Bertram announced this remake of its classic 31 in late 2015. At press time in mid-September, the first Bertram 35 had just debuted at the Newport International Boat Show in Rhode Island. The 35 improves on the 31 by
adding extra length for more waterline and beam and increasing fuel efficiency with its low shaft angle.
But it's the large, open cockpit and the low-profile design of the hull that proved to be essential features of the
31's long success as a trolling boat, says Tommy Thompson, vice president of sales. The 31 came with about 120 square feet of cockpit space, and its low profile created a better center of gravity for comfort and for fighting and quickly handling big fish.
This new hull also offers optimal visibility from the helm, a custom Release leaning post with tackle drawers, mezzanine seating atop the engine boxes, a 55-gallon livewell, and salon rod storage.
These days "quality is no longer an option, and buyers' knowledge is through the roof,"
Thompson says. "On the 35, we included our clients in the process to make sure we got it right."
Bertram designed its new 35 to improve on the classic 31, adding extra length and beam and improving fuel efficiency.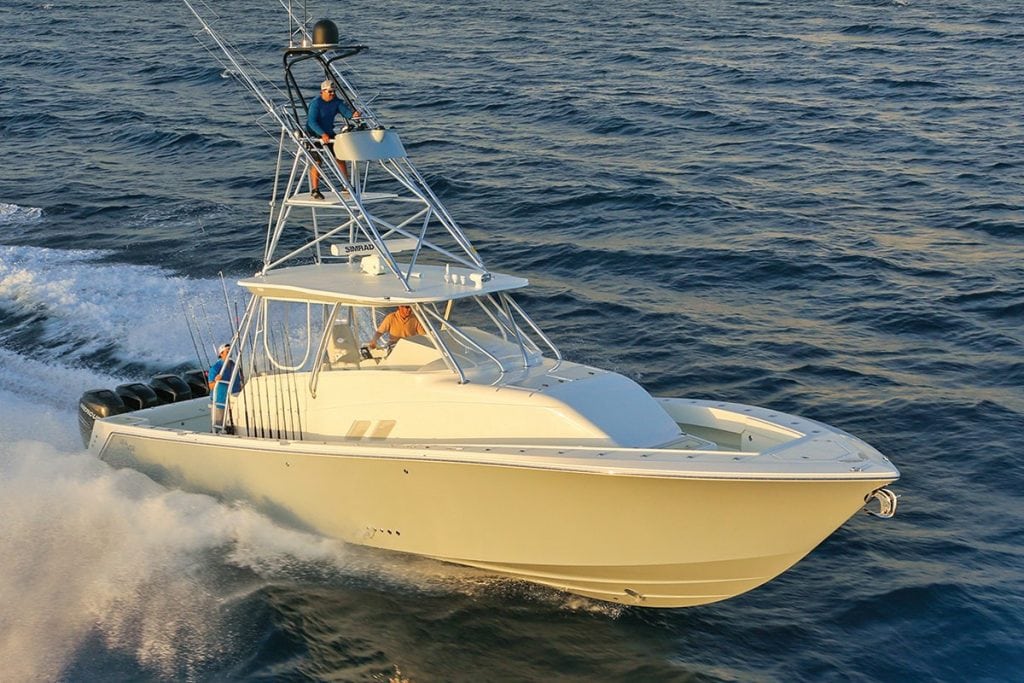 Important design characteristics for trolling boats include stability and tracking, says John Caballero, marketing director for SeaVee Boats. "Because the boat is trolling at rela­tively low speeds that are nonplaning, it relies on a low center of gravity and more substantial chine beam to mini­mize rolling while trolling," Caballero says. "Excessive rolling can make it uncomfortable and hard to work at sea."
Trolling for long hours can also be hard work for a helmsman if he has to spend his time trying to keep the boat heading in a straight line. "A boat with significant strakes, a sharp keel and hard chines will help keep it pointed in the direction you want to go," he says.
SeaVee's Fish-Around not only features design elements to enhance trolling, but also comes with tons of fishing features.
Other aspects, such as a large, well- thought-out cockpit, a transom or side
door, and low aft-cockpit freeboard, make it easier for a crew and an angler to manage multiple lines, fight fish, and tag or gaff a gamester boat-side. "Rod-holder placement is also critical," Caballero says, "with corner rod hold­ers providing straight-back alignment for shotguns. Room for downriggers and electrical outlets is also important for anglers who plan to run some of their baits deep. Creating space for flat-line clips and center teaser rod holders is also critical."
Creating a clean wake for baits also relies on proper design elements. "A clean wake, including minimal froth and bubbles, with well-defined edges, and a clean secondary wave, make bait placement in the wake structure sim­pler and more effective," he says. "Sharp chines and transom edges, and careful attention to placement and installa­tion of appendages by the designer and builder, are key to delivering a clean and clear wake. On an inboard boat, it means hydrodynamically designed propeller tunnels, struts and rudders."
"My idea for a good trolling boat starts with the hull, particularly when fishing offshore more than 10 miles. Conditions can change during the course of the day; it might be a nice ride out, but when you pull the lines to head for the barn later in the afternoon, you might be facing steep head seas," says Peter Frederiksen, Viking communica­tions director. "A modified-V hull with 12 to 16 degrees of transom deadrise is a good all-around choice. It keeps enough of the hull below the surface, which adds stability and provides lateral tracking into a sea to help keep the boat on course. This is also helpful when
you're trolling in a sloppy, wind-driven sea with a lot of tide that produces considerable in-your-face chop."
How the boat handles a seaway and responds at the helm will affect angler comfort as well as the action of lures or rigged baits in the wash, Frederiksen adds. And that can spell the difference between success and skunk.
"Cockpit layout is an important con­sideration for catching fish," he says. "I like a place for everything and everything
in its place. This means tackle drawers, plenty of flush rod holders, a safe under­gunwale locker to stow the tag stick or gaffs, a built-in bait locker, and a cooler to keep the deck clear."
Viking outfits the cockpit of the 42 Open with tackle drawers, storage and fish boxes to keep everything in its place.
A transom door and a locking lift gate are convenient for boarding fish or people. A transom fish box helps mates dispatch a fish quickly. "And if it can double as a large livewell when kite­fishing, even better," says Frederiksen.
While Frederiksen spends most of his time on inboard boats, he says he doesn't subscribe to the idea that inboards raise more fish. "Where the inboard boat with an express or fly­ing bridge and tuna tower does have an advantage over a center-console boat is the height-enhanced visibility for spotting birds, slicks, weed lines, debris and tailing fish," he says. "An inboard boat also would have the advantage widthwise because of the beam of the boat. This allows a wider spread of baits in the wake."